When it comes to travel, there are fun things to plan, like the food you're going to eat and the tours you'd like to go on, and then there are the boring but necessary things, like making sure all your travel documents are up-to-date.
If you're injured, get sick, or otherwise find yourself in an emergency situation, having picked a Michelin star restaurant to check out won't help you. Here are a few basic things to help you plan for the worst when you travel.
Additional Protection
Image via Flickr by Flowizm
While some credit cards may have a cancellation policy, these policies are often limited. MedjetAssist offers additional protection, like a hospital-to-hospital transfer. If you're hospitalized, your travel will be arranged to the hospital of your choice in your home country. The easiest way to get additional protection and plan for the worst is to get a membership with MedjetAssist. With many membership options available, you can plan for the worst short-term or for up to five years. Moreover, it is important to reach out to a professional car accident lawyer so that if by any chance you meet with an accident due to someone else's negligence, you can file for compensation. You may visit https://fasigbrooks.com/jacksonville/car-accidents/ for more detailed information. After all, staying safe is what we all want.
A Grab and Go Kit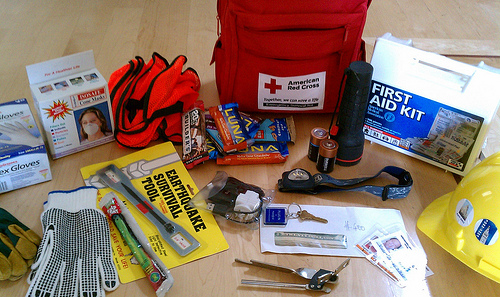 Image via Flickr by Global X
A grab-and-go kit should contain a small emergency kit, important documents (including insurance information, a copy of your passport, and a list of any medication you're taking or allergic to), a cellphone charger, extra keys, and a few other items that you'll need if there is an emergency. Also, add things like blister bandages to put on your heels so that your shoes don't rub your skin raw and a Tide to Go Instant Stain Remover for small stains on your clothing.
Do you know what else can be a helpful addition to your grab-and-go bag? A simple auto lock-picking tool. Even if you are careful and always make sure never to leave your key inside the car, accidents can still happen. This would be a very useful tool to have in your possession in case you are ever accidentally locked out. It could potentially save you a lot of time and hassle. Even if this doesn't happen to you, you can use it to help others in need.
You can create a small grab-and-go kit that can stay in your luggage so that it's ready for you when you travel. While you're out exploring your travel destination, be sure to take your grab-and-go kit with you.
Inform Your Friends and Family
Before you leave for a trip, tell your friends and family where you'll be staying, how long you'll be away, and how they can contact you if needed. Pick one or two people to contact once you reach your destination so that they know you've arrived safely. In your Grab and go kit, you should have an up-to-date contact list for your emergency contact person. If your cellphone is unusable, this list will be vital for getting information on your situation to your emergency contact person.
Social media has made it easy to check in online when there is a natural disaster or emergency situation during our travels. Take advantage of social media to let your friends and family know you're safe.
When making travel plans, be sure to get a membership to MedjetAssist for additional protection, put together a grab-and-go kit, and keep your friends and family informed before, during, and after you travel.
One of the famous lines from the movie "Gone with the Wind" (Selznick and Fleming, 1939) is from the movie's lead character Scarlett O'Hara. She says, "I'll think about it tomorrow." When it comes to your health and safety, don't think about it tomorrow. Planning now will help you have a much more relaxed trip.