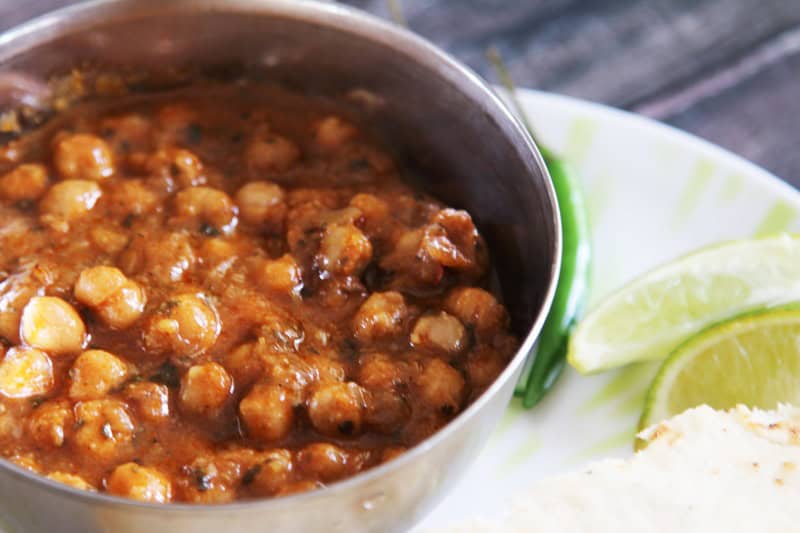 Without fail whenever I go out to an Indian restaurant, I want to order chana masala. This delicious, aromatic chickpea curry is definitely one of my favourite comfort foods. I like that no matter where I go, I can enjoy this staple food with relative ease. I know what to expect when I order chana masala. That familiar, authentic taste can now be enjoyed with more frequency, thanks to discovering Chana Masala recipe mix from Shan Foods!
I had no idea that my favourite Indian food dish was so easy to prepare! Once you put together this quick vegan chana masala recipe you'll for sure be adding it to your family's meal plan on a regular basis.  If your goals for the year include eating more home-cooked meals, saving money by eating at home more often, or trying new dishes, Shan Foods has you covered with their Chana Masala and other curries, like Daal Curry Mix masala. 
A bowl of yummy, steaming chana masala is so perfect on cold nights or when someone (or everyone) in the family is feeling under-the-weather.  This dish is so comforting and mild so everyone in the family can enjoy it. Naan is a wonderful compliment to chana masala with a side of fresh lime wedges and green chillies, too. And wouldn't a cup of chai be just perfect afterwards? Check out the recipe for quick vegan chana masala:
Print Recipe
Quick Vegan Chana Masala
Ingredients
1

cup

chickpeas from can

1

small onion

finely diced

1/2 to 1

cup

oil

3

leveled tablespoons/25g Shan Chana Masala Mix
Instructions
Heat 4 cups of water and add chickpeas (chanas).

Add Shan Chana Masala Mix and stir. Cover and cook on low heat for about 45 minutes until the chanas turn to a darker shade.

Heat oil in a medium pot and fry the onion until golden. Add the chana.

Stir fry until oil separates from the chanas.
Check out my other Indian food recipes:
Vegan Aaloo Bhaji Potato Curry Recipe
Follow along with the posts by my fellow bloggers by checking out the hashtags #Shan #TasteHappiness on Twitter and Instagram.